Provincial People`s Congress Standing Committee Vice-Chairman Chen Jixing visit Heyuan production-base.
View:3008 DateTime:2012/4/13
On the morning of April 12, deputy director of the Provincial People's Congress Chen Jixing rate of the Provincial People's Congress Financial and Economic Committee,the provincial and Social Council,the Provincial Department of Finance,the Provincial Local Taxation Bureau and other departments came to the Oceanpower Heyuan production- base for research.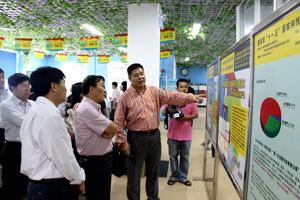 The executive director of Oceanpower, HE Weiping, accompanied the research delegation to visit the Oceanpower Heyuan production-base, and introduced to them the recent developments, also the product application in the field of low-carbon engineering、 new materials and water reuse technology.
Chenji Xing, deputy director, carefully listened to the reports, and fully affirmed Oceanpower's success in the fields of low-carbon engineering and new materials, the safety of the biofilm water purification technology and water reuse technology, he also highly praised the achievements of "independent innovation, and standardization strategy" obtained by Oceanpower.