Deputy Secretary and Discipline Secretary of Guangdong Province Zhu Mingguo went to Oceanpower in Heyuan for Inspection
View:2123 DateTime:2011/9/14
In the afternoon of September 13, Deputy Secretary and Discipline Secretary of Guangdong Province Zhu Mingguo visited Oceanpower's Postdoctoral achievement industrialization base for investigation and inspection, accompanied with Heyuan Party Secretary Chen Jianhua and Mayor Peng Jianwen.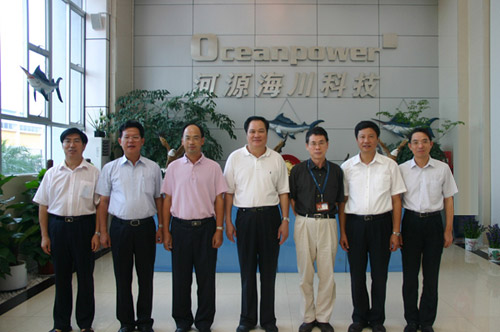 Secretary Zhu Mingguo listened carefully to the work reports of relevant departments, and spoke highly of the achievements made by Heyan Oceanpower base in application of new technologies in the low carbon road materials and the biofilm water purification technology and water reuse technology and other fields. Also, he affirmed the achievements made by Oceanpower to implement Intellectual Property and standardization strategy in the fields of innovation.
Secretary Zhu Mingguo hoped Oceanpower to further enhance the capability of independent innovation, continue to change technical superiority into competitive advantage and turn competitive advantage into market advantage, and strive to achieve the upgrading from "Made in China"to "Created in China"