Executive director Mr. He attended the signing ceremony of strategic cooperation framework agreement between Futian District Government and Sichuan University
View:2963 DateTime:2012/9/26
On the afternoon of September 23, the signing ceremony of strategic cooperation framework agreement between Futian District Government and Sichuan University was held in Wangjiang campus. Vice Party Secretary professor Luo Zhongshu and vice president professorYan Shijing of Sichuan University welcomed the campus recruitment group which was led by the District Mayor Yanghong. District government office, bureau of human resources and Shenzhen Oceanpower Corporation Co.,LTD attended the ceremony.
Vice Party Secretary Luo Zhongshu showed his warm welcome and thankful to the campus recruitment group. He also said that since Sichuan University has always been dedicated to improve the quality of talent training, that he hoped both sides could pay more attention to the interaction and exchange of talent in order to promote the cooperation to a new stage.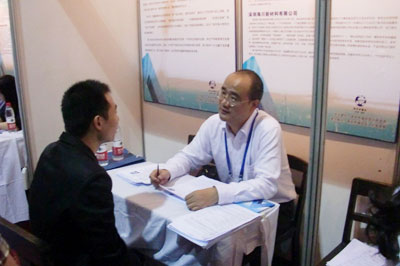 Executive director Mr. He of Shenzhen Oceanpower Corporation Co.,Ltd. represented the campus recruitment group to deliver a speech. In his speech, he introduced the development of enterprises, spoke highly of talents graduated from Sichuan University and thank the faculties for their hard-working.
District Mayor Yanghong introduced the 22-year glorious development of Futian District. In 2011, the GDP of Futian District reached more than 200 billion, which contained the hard-working of Sichuan University graduates. And he hoped that the two sides could work together to build a happy blueprint for Futian District.