Executive dirrctor Mr.He was invited to attend the Shenzhen radio CPPCC hotline program
View:2850 DateTime:2012/7/30
July 28, 2012 morning,Mr.He who is one of the CPPCC member and Oceanpower'executive dirrector was invited by Shenzhen radio pioneer group 898 columns to attend Shenzhen radio CPPCC hotline program,talking about 《 when straight drinking water can flow into the commom people'house 》
Mr.He said: since July 1, 2012, from leading out of the tap water in the drinking water quality to be required the new national compulsory standards, and compared the old national standard, new GB index increased to 106 from 35 of items, strengthening the of microorganisms, heavy metal and organic pollutants control requirements, microbiology indicators increased by two to six, drinking water by a disinfectant increased by 1 to 4 items, inorganic toxicological index increased 21 items, and organic toxicological index increased 48 items. The latest national standard of drinking water has been geared to international organizations water quality standards, and flated with the world's most severe eu water quality standard.

Water quality standards, is the safety standard, and also the technical standard.It must be made more standards accord with the present situation and better guarantee the safe supply to ensure that people can drink qualified water. As the environmental, the economic and the social conditions changes and development, the existing standard will be fortbildung. This will be a continuous dynamic change process.
Mr.He said that even if the national water quality can reach the standard, there is still a distance to drink the drinking water . Although the new GB for water quality have been already fully implemented,it also needs more time to drink the drinking water when opening the tap. Because have to drink straight drinking water, not only to ensure the security of quality water when it outflow the water factory , and also to ensure the water away from the secondary pollution when it flows through the city and family'network pipes. This requires not only a comprehensive reform, improving the existing old technology, using update, more advanced processing method, but also needs to repair the old pipe transformation, and need to improve guarantee seconedary water supplies and equipment to ensure safety secondary water supplies. So, it will be possible to the top flow direct drinking water. This whole industry chain link, still have a lot of work to do. Therefore, into direct drinking time, still need to related departments, enterprises and citizens participation in a wide range of positive.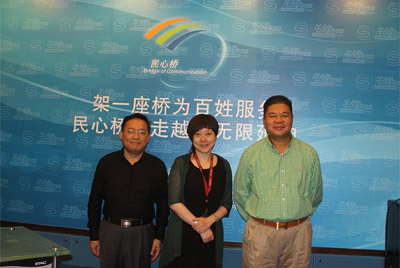 In the show, Mr.He introduced the barrier of disinfection strategy:combining two or more of the drinking water disinfection ways to be a process. In order to ensure the quality of the tap water supply better,we can use UV as the main disinfection process,and in the whole process,we can add a small amount of liquid chlorine in the end to ensure water supply network of biological stability, for people to provide safer, high quality of the drinking water. To better improve drinking water treatment process and improve the drinking water quality is the development direction of water treatment technology in the future.